Cut Section Complete Chassis Without Electricals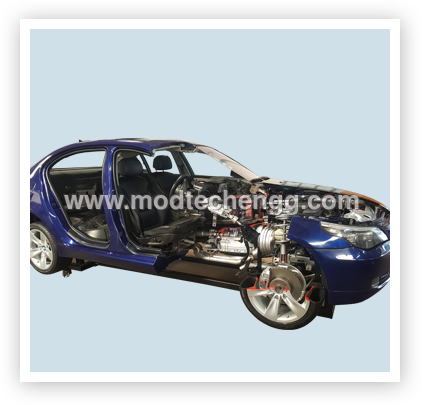 Cut Section Complete Chassis Without Electricals
Product Description
B Model No. MT-B00
CUT-SECTION MODEL OF DEMONSTRATION CHASSIS WORKING OF A VEHICLE:
The model is made out of full size original used car/van/LCV/Truck/tractor chassis. The cut section model is constructed such that all the following systems can be demonstrated in working conditions.
ENGINE:
Maximum parts and accessories of an engine like of the cylinders, cylinder head, Inlet and Exhaust manifolds, Fuel system, Lubrication system, cooling system, self-starter, Alternator, etc, are sectioned to show the internal constructional details.
This complete sectioned models is coupled with 220/230V A.C single phase Motor through a Reduction drive unit. By running the motor the complete working details of the individual parts, different mechanisms can be demonstrated as the model is running at a very low speed (about 15 to 20 rpm).
TRANSMISSION SYSTEM:
It consists of a Clutch and gearbox assembly, the casing of which is suitably cut to demonstrate its operation. The Hydraulic/Mechanical circuit from the pedal to the Clutch is active and will help to demonstrate the response of clutch systems. The gearbox is coupled to Differential gear box with an axle and the different coupling used for this transmission can be demonstrated. The Differential gear box is also cut so as to clearly to demonstrate its complete operating principle. The gear shifting including the forward and reverse gear operation can be clearly shown. The speed variation and the rotation of the Differential gear box can be seen while gear shifting.
FUEL SYSTEM:
The components related to fuel system will be suitably sectioned and made working to explain the internal details of the system.
EXHAUST SYSTEM:
It consists of Exhaust Manifold and silencer in cut section to explain internal construction.
LUBRICATION SYSTEM:
It consists of the engine Lubrication system along with the Lubrication oil pump.
SUSPENSION SYSTEM:
This will explain both the front and rear Suspension systems along with necessary linkages etc.,
The construction and internal details can be explained using the same.
BRAKING SYSTEM:
This Mechanical/Hydraulic/Air circuit of the Braking mechanism is suitably sectioned to show the internal constructional details. The principle of Pedal braking and hand braking can be explained .
(Only Hydraulic Braking circuit will be made working.)
STEERING MECHANISM:
This can be seen and included in the Steering wheel, Steering gear and coupling at the wheels.
Model No.

Description

MT-B01

CUT-SECTION MODEL OF DEMONSTRATION CHASSIS MPFI VEHICLE

MT-B02

CUT-SECTION MODEL OF DEMONSTRATION CHASSIS CARBURATOR VEHICLE

MT-B03

CUT-SECTION MODEL OF DEMONSTRATION CHASSIS DIESEL

2 WHEEL DRIVE

MT-B04

CUT-SECTION MODEL OF DEMONSTRATION CHASSIS DIESEL

4 WHEEL DRIVE

MT-B05

CUT-SECTION MODEL OF DEMONSTRATION CHASSIS DIESEL LCV

MT-B06

CUT-SECTION MODEL OF DEMONSTRATION CHASSIS TRUCK

MT-B07

CUT-SECTION MODEL OF DEMONSTRATION CHASSIS TRACTOR

MT-B08

CUT-SECTION MODEL OF DEMONSTRATION CHASSIS THREE WHEELER PETROL

MT-B09

CUT-SECTION MODEL OF DEMONSTRATION CHASSIS THREE WHEELER DIESEL
Trade Information
Cheque, Western Union, Paypal

100 Per Week
1 Months

Asia, Australia, Central America, North America, South America, Eastern Europe, Western Europe, Middle East, Africa
Contact Us
Plot No. 95, Behind Omex Auto, Bommasandra Jigani Link Road, Jigini Post, Bengaluru, Karnataka, 562105, India
Phone :08045479896